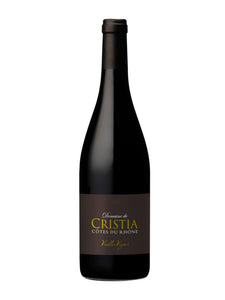 Domaine de Cristia Côtes du Rhône 'Les Garrigues' 2021
93 POINTS: Wine Direct Tasting Team
93 POINTS: James Suckling 

"This is a finessed styled beauty and easily the best Côtes du Rhône ever from Baptiste Grangeon. Brilliant ruby with violet purple highlights. Spice-accented aromas of black raspberry and cherry with hints of licquorice and pepper. Full, sweet and expansive on the palate, packed with juicy red and blue fruit flavors complicated by hints of peppery spices and licorice. Silky and energetic with slow-building tannins and very good balance and structure. A simply sensational old vine cuvee punching well above it's weight. It will give many Chateaunuef-du-Papes a run for their money!"
​— Wine Direct Tasting Team

"The intense clove aroma is at the outer edge of typicity for this appellation. However, this Chateauneuf is simultaneously savory, dry and surprisingly elegant through the long balsamic and spicy finish. A pure grenache. From organically grown grapes. Drink or hold."
- James Suckling 

"As I have indicated over the last few years, this is one of the superb newer producers in Chateauneuf-du-Pape. Their cellars are in the village of Courthezon, which is located adjacent to the very northeast sector of the appellation. This superb Chateauneuf-du-Pape producer also fashions tasty Cotes du Rhones meant to be consumed during their first few years of life."
- Robert Parker

Domaine de Cristia was established in 1942, with only two hectares of vines; at that time, all grapes were sold to négociants. When Baptiste Grangeon inherited the vineyards from his father in 1999, he was the first to bottle as Domaine de Cristia. Today, Baptiste manages the winery with his sister, Dominique, and they have gradually added vineyards over the years, to a total of 20 hectares of vines in Châteauneuf-du-Pape. Ninety percent of their holdings are in the lieu-dit Cristia, with the remaining ten percent spread over three different areas. These parcels are comprised of varying soil-types, including sand, clay, limestone, and galets, and benefit from a cool, fresh north-easterly exposition which allows the grapes and wines to develop supple, elegant tannins. Their Syrah and Mourvèdre vines average 55 years old and the oldest Grenache is over 100 years old.

The domaine follows organic agriculture for all work in the vineyards and has been certified from the 2008 vintage.
 ABV: 14.5%
Tax included.
Quantity must be 1 or more